Description
Please read Full item description, and any questions, please email us before purchase…
Quality Teltonika FMB900 GPS Car Van Vehicle Tracker Fleet Tracking Device
This package requires a set up of £3.50 a month standing order per tracker
( for the EU M2M data sim card and Tracking System, First Month Free )
EU Made Device
                                         Free Shipping 100% Original Quick Delivery
Top of the Range Global GPS Tracker, 
Global or EU SIM Card with Data
 GPS Platform, Best performing Server for Tracking Devices
Complete Tracking Bundle.
All Pre-configured Ready To Use Out Of The Box.
                                               We normally sell just the Teltonika tracker for £49.99.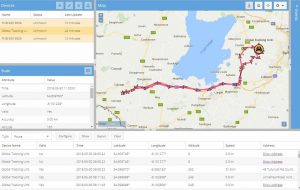 Prevent and recover stolen assets with our GPS devices and online car tracking software – no technical skills required & simple 2 wire setup.


Installed M2M SIM Data and Tracking Software
Go to world wide locate website to see for yourself

Not Just GPS, also GLONASS, GALILEO, BEIDOU, SBAS, QZSS, DGPS and AGPS satellite Connection to provide Ultimate Coverage
When we configure the trackers and set them up on worldwidelocate for you they are then activated for one month. If you are not satisfied with it please feel free to send it back for a refund .

All trackers need a SIM card to work, ours come with this installed. The safest and cheapest way to make payments is to set up a £3.50 a month standing order at worldwidelocate where you will be guided to a PayPal subscription that you can cancel at anytime ( You will not need to set this up for a few weeks as we pay for the first month for you )
Our trackers work on any voltage vehicle between 10v and 30v, simply connect the red wire to a positive feed and the black to earth. With your tracker will be sent a user name and password for worldwidelocate and thats it your up and running. Please also add your e-mail address so you can receive notifications.
We are dedicated to providing the best service, we regularly try and test all new trackers on the market and have tried many different trackers over time, this is by far the best. Teltonika has proved themselves to us on the accuracy and reliability, and are proud to be using their products.
 Our trackers work EU or Globally and the SIM cards work in over 180 countries.
• Features:
• Dimensions 79x43x12 mm
• Fast first GPS fix
• Real Time tracking
• High Quality track even in high density populated urban areas or valleys
• Easy to mount
• High Gain internal antennas
• Teltonika FM900 tracking device
• Small and smart tracker – Easy to install, hard to find!
worldwidelocate are dedicated to providing the best tracking package for the right price. There are three main elements to having a successful tracking operation, 
1. The Tracker. We have used and tested many brands and their various models, our experience has found Teltonika to be the best tracker. Teltonika are said to be the leader in tracking and telematics in Europe.
2. The SIM card. There are many options for SIMs, the most common is to pick up a PAYG. The cost of a PAYG is about £5 a month, and you have to remember to top up. Most SIMs are household brand names such as Giff Gaff or Vodafone, these only work on their own networks. We use a commercial M2M SIM card. An M2M SIM card is primarily used for sending and receiving data. These SIMs are able to provide you with GPRS, 2G, 3G and also 4G connectivity. Our SIMs can deliver roaming services across 180 countries through over 300 networks world wide.
3. The Software.

The features are endless with this software, Geo-fencing, E-mail alerts, Odometer, History, Realtime Google maps view, no extra costs for any of the features. Full customization to show drivers name and vehicle details and number plate.
If you have any Questions we can help you with, please feel free to contact us

We accept payment by any of the following methods:  PayPal
Please pay as soon as possible after winning an auction, as that will allow us to post your item to you sooner!
We offer FREE shipping on all orders!
Your order will be dispatched within 1 working day of receiving payment (Monday-Friday) and you should expect to receive it one or two days after dispatch.
In the very unlikely event that your item is lost or damaged during post, then WE are responsible and will issue either a full refund or replacement.
If you are not 100% satisfied with your purchase, you can return the product and get a full refund or exchange the product for another one.
You can return a product for up to 14 days from the date you purchased it.
Free Shipping, 100% Original, Quick Delivery
Any questions, please email us before purchase…

Hardware manufacture, Teltonika key points to note:
– Foundation 1998
– Headquarters in Vilnius
– Partners with NOKIA
– Partners with Fujitsu Microelectronics Limited
– ISO 9001:2015 standard
– Updated ISO 9001:2015 standard
– 126 export countries
– 600,000 units per month produced
FMB900 Small and Smart Tracker
GSM/GPRS features:
– Quad-band 900/1800 MHz; 850/1900 MHz
GNSS features:
– Hot start <1s, Warm Start < 25s, Cold start < 35s
– GPS, GLONASS, GALILEO, BEIDOU, SBAS, QZSS, DGPS, AGPS
– Accuracy < 3m
Interface:
– Power supply (+6 to +30) Volt DC with overvoltage protection
– Built in accelerometer
– Internal High Gain GNSS antenna
– Internal High Gain GSM antenna
– Certified IP54 case
Features:
-Dimensions 79mmx43mmx12 mm.
-Weight 50 g.
-128MB internal flash memory
– Ultra small and easy to mount in limited access areas case
– High Gain internal GPS / GLONASS and GSM antennas
– Fast first GPS fix
– High Quality track even in high density populated urban areas or canyon
– Real Time tracking
– Smart algorithm of GPRS connections for GPRS traffic saving
– Sending acquired data via GPRS (UDP/IP protocol)
– Deep Sleep mode (less than 2 mA power consumption)
– Two status LED
– Colour Ribbon undetectable cable
– Two wire easy install
Smart data acquisition based on:
– Time, Distance, Angle
FMB900 Certification & Approvals
CE / RED, E-Mark, EAC, RoHS, REACH, IP Rating, Declaration of IMEI
assignment